This Wireless Portable Automatic Hair Curler creates long-lasting and runway-ready curls in no time. No skill required and perfect for beginners! Whether the salon is closed for the day or you're off on a weekend trip, you can count on this hair curler for getting amazing salon-like results.
It works on all hair types and lengths - simply take a piece of hair and watch it transform into a flawless curl. Whether you're in the mood for tight ringlets or beach waves, this curler can do them all. The Wireless Portable Automatic Hair Curler is so small, you can even fit it in your handbag and enjoy flawless hairstyling wherever you are!
Features
Easy To Use
The Wireless Portable Automatic Hair Curler requires no skill at all! Whether you're a beginner to hair curling or a pro, you're guaranteed flawless curls anytime. 
 
LCD Display
The LCD display shows your personalized temperature setting, curl direction, timer, and battery level.
 
Adjustable Settings
6 temperature settings, 6 timer settings, and 2 direction curls setting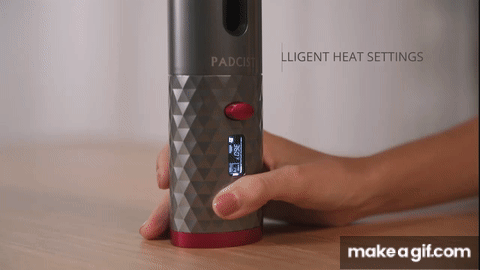 Cordless design
The cordless design of this curler makes it much more convenient than traditional ones, eliminating the mess of tangled cords and allowing you a more convenient styling on-the-go.
Portable
This curler is so small, it even fits in your handbag or overnight bag so you don't have to worry about "bad hair" day ever again.